Ab 5.12.2016 - 3hfa auch in England endlich auf DVD
Wieder mal so eine unfassbare mail: Am 30. November 2016 schrieb mir Chris:
"Hi Kathrin,
As you may be aware, Second Run are about to release the wonderful /Three Wishes for Cinderella (Tři oříšky pro Popelku/Drei Haselnüsse für Aschenbrödel)/ on DVD in the UK.
I just wanted to drop you a line with information about our release that you could perhaps add to your amazing site and let your members and fans know about it..."
Nee, da war ich so gar nicht aware sondern komplett überrascht und deswegen jetzt ziemlich glücklich. Ist das mal cool! Na klar lass ich das die Fans gerne wissen! Wisset also, was jener Chris mir als Pressematerial zugehen ließ: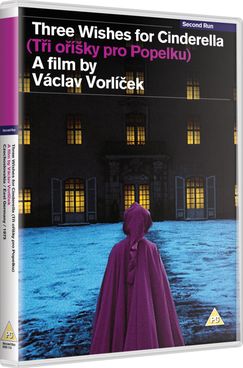 Václav Vorlíček's 1973 reworking of the classic Cinderella is one of the most beloved films in all Central European cinema. Delightful and unconventional, Three Wishes for Cinderella places the familiar fairy tale into a wintry setting with down-to-earth characters and a feisty and rebellious Cinderella. Far from being just a passive beauty, she is a spirited rider, a champion hunter and takes every opportunity to challenge - and actively pursue - her handsome Prince.

A perennial favourite on television throughout Europe (including as a dubbed BBC serial), Three Wishes for Cinderella continues to charm with its magic and beauty. Second Run are delighted to present this much-loved classic film in its original Czech version, newly restored from original materials and available for the first time ever in the UK.

DVD Special features:
Presented from a brand new 4k digital restoration from original materials, supervised by the Czech National Film Archive.
A new and exclusive filmed appreciation by writer, editor and film historian Michael Brooke
16-page booklet featuring a new essay by fantasy film critic and historian Tim Lucas.
Original theatrical trailer and 2015 re-release trailer
New and improved English subtitle translation.
Release date: 5 December 2016
SECOND RUN DVD 113
BARCODE: 5060114151123
RRP: £12.99 BBFC cert: PG
Feature: 84 minutes; Extras: 37 minutes; Language: Czech; Subtitles: English
yay!